Well, it looks like Orbital is going to have to push off their planned launches of the Taurus 2 rocket carrying their Cygnus capsule until late February or early March. The problem, they say, is not with the rocket or capsule, but the fact that the new launch facilities are not ready. Here's the full article from Space news.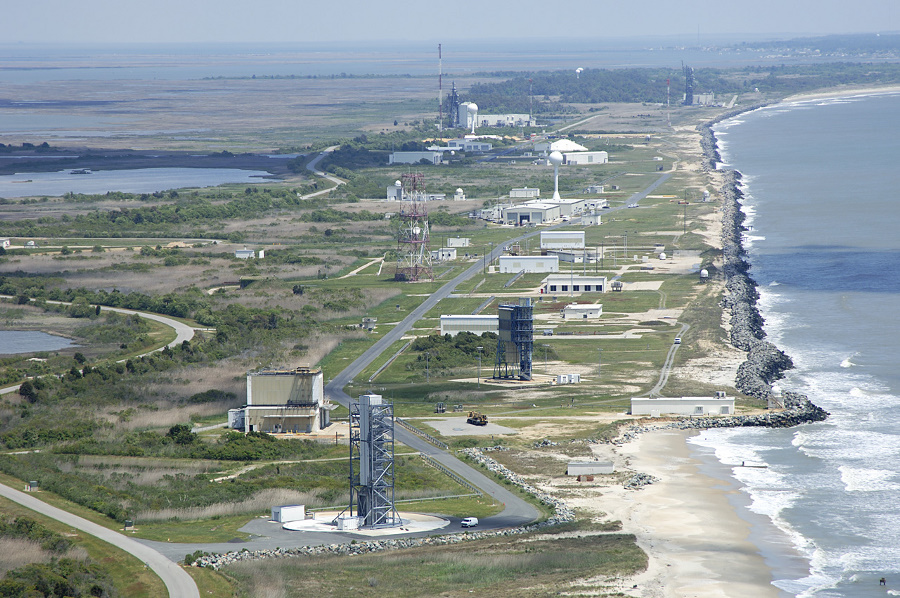 Wallops Island, photo courtesy of NASA
Wallops Island has been a launch base for NASA since 1959. NASA tested the Mercury space capsules from Wallops Island before taking them to Cape Canaveral and putting astronauts in them. However, it's mission has been suborbital and small spacecraft missions. In 1998, the Virginia Commercial Space Flight Authority created the
Mid-Atlantic Regional Spaceport
in order to support commercial space flights with two medium-to-heavy lift launch pads. In order to support Taurus 2, some improvements needed to be made. The Virginia Commercial Space Flight Authority was doing those, and (as seems to happen with everything involving a government or construction operation) they ran behind schedule. Apparently, the big problems were some rework on the launch mount and the cleaning of propellant and pressurization tanks that were not properly maintained throughout the year. The work was to have been done by October 24, but it looks like final certification and handoff to Orbital will be in January instead.
Orbital's launch site on Wallops Island, from the Orbital website
Support structures are very important for the space industry, and they have to have the same level of perfection that the rockets and capsules do. Unlike planes that in a pinch can take off and land on any reasonable surface, rockets need a lot more support in order to not only launch safely, but to also meet their objective in orbit. So it's frustrating to again see delays, but with so many cogs in the machine, you have to expect some. Orbital is already doing work on the Taurus to prepare for the eventual launch, so they aren't in a holding pattern. They also have a lot of other missions to accomplish, and are getting more contracts for launching satellites for national military and commercial interests and international telecommunications.